Algonquin 2005
Cannisbay Lake - Maggie Lake - Guskewau Lake
---
Tuesday, June 14, 2005
This short trek is supposed to be a car camping overnight (June 16) at the Cannisbay campground, and then two nights (June 17 - Maggie Lake & June 18 Guskewau Lake) on the 32k loop of the Western Uplands hiking trail and return home June 19.
The long term forecast does not look promising at the moment...
THU
JUN 16
FRI
JUN 17
SAT
JUN 18
SUN
JUN 19
HIGH
19°C
21°C
22°C
20°C
LOW
11°C
11°C
10°C
5°C
P.O.P.
80%
80%
60%
10%

Updated : Tuesday June 14 2005, 16:45 EDT
---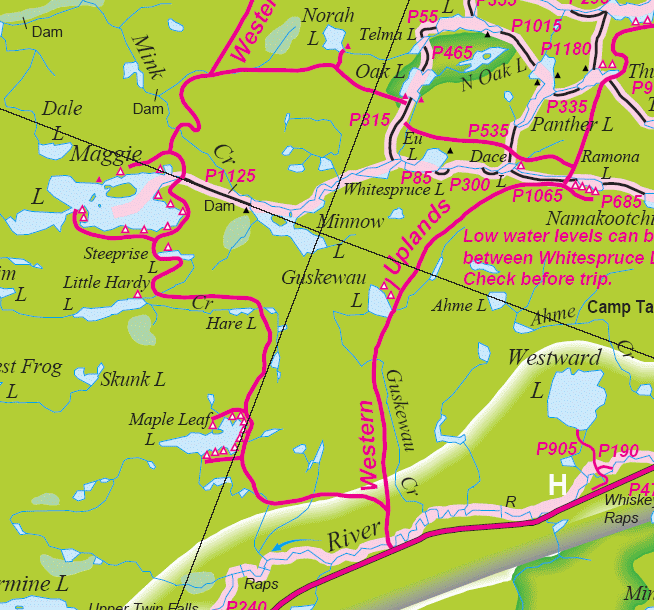 ---
Thursday, June 16, 2005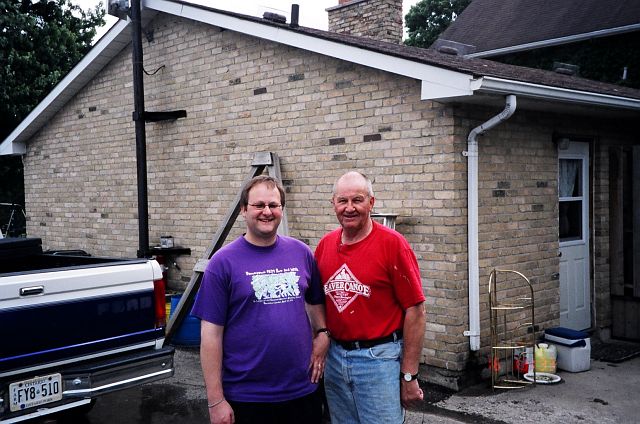 The departure committee!
This was typical of the ride up (and most of the trip)... overcast with spotty showers.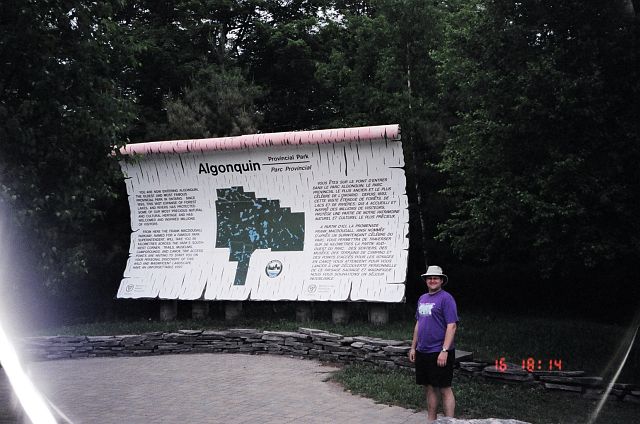 6:15 PM arrive at Main Gate East of Algonquin Park
~7:00 PM arrive at our Canisbay Campground site. Again the traditional dinner of bacon cheese burgers (done on the Hibachi) and beer!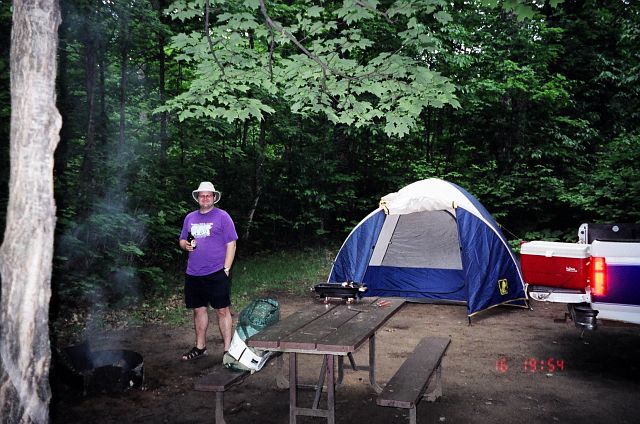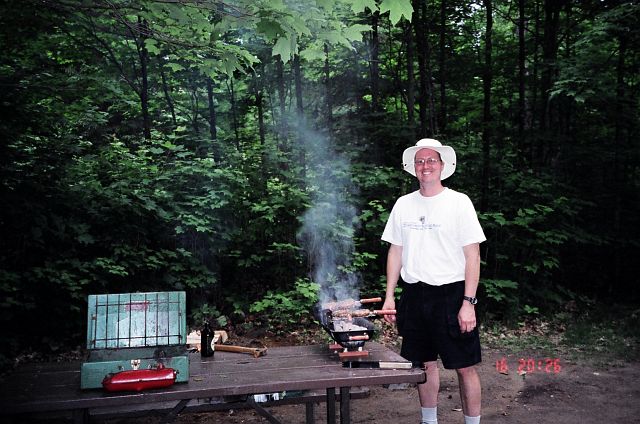 ---
Friday, June 17, 2005
5:30 AM decide to do an early morning hike on the Whiskey Rapids Trail. Like we needed more distance? What were we thinking?.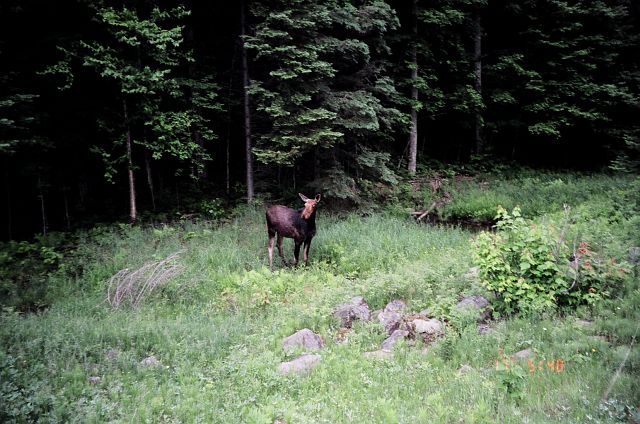 The moose were out like mosquitoes along the highway that morning.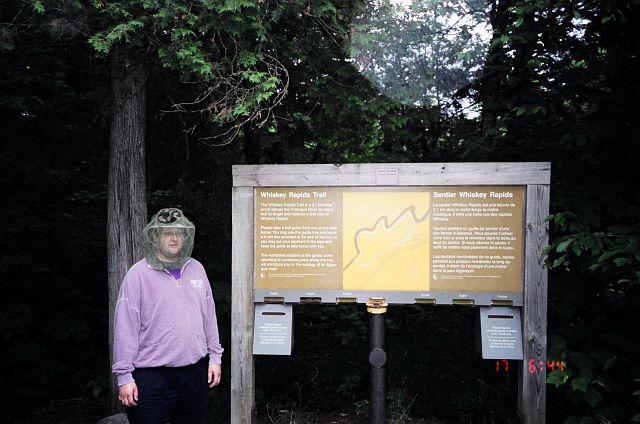 Whiskey Rapids Trail Head.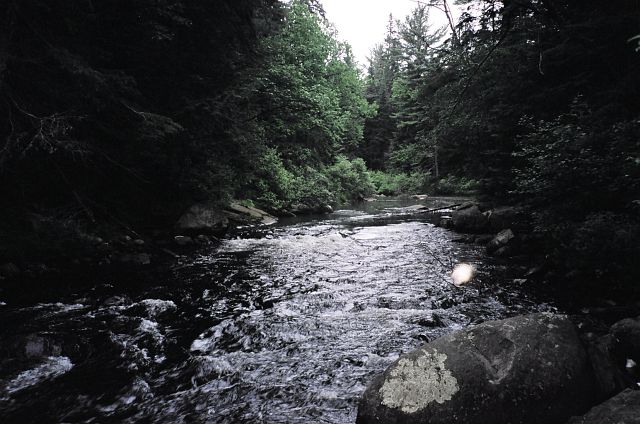 7:30 AM back to Cannisbay for the bacon, egg and beer breakfast.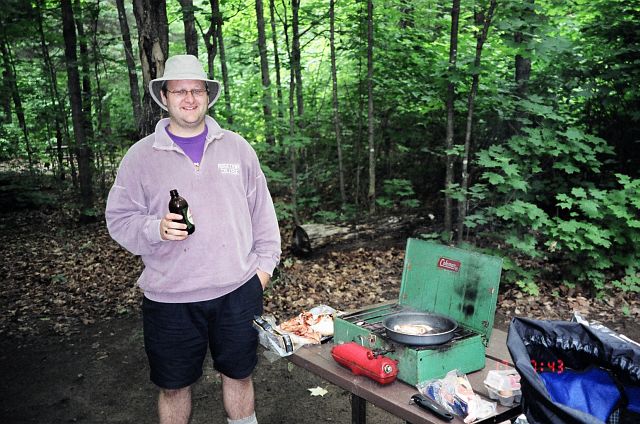 10:15 AM last minute preparations at the Western Uplands Backpacking Trail Head and with permits in hand we're off.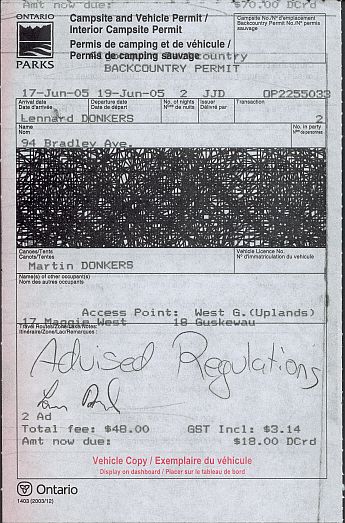 The permit.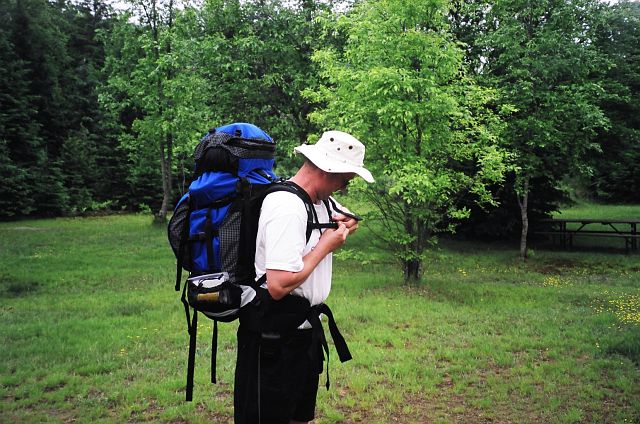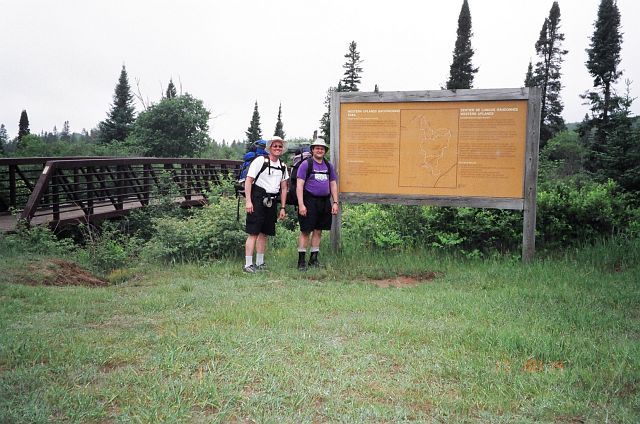 The trail starts relatively smooth, wide and lots of roots.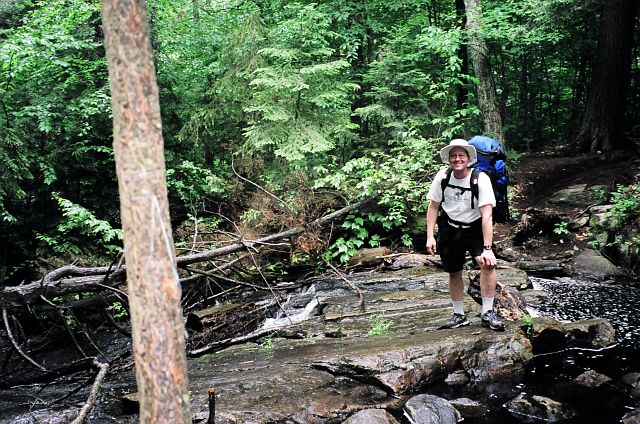 Soon we're crossing creeks and...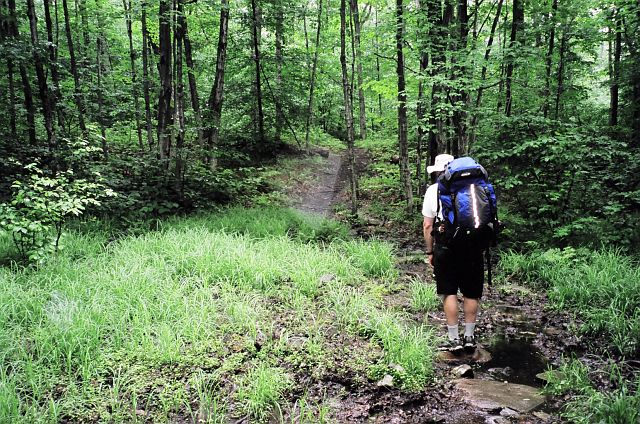 ... trying to find the right (dry) steps through the muddy sections. Note to self: NEVER attempt this type of hike in trail running shoes again.
The mosquitoes were terrible. 8 hour deet, lost it's effectiveness in 45 minutes, and needed re-application on the hour. You could set your watch by it. Luckily the lake side stops had a breeze which kept the mosquitoes at bay.
1:55 PM

arrive at Hardy Creek.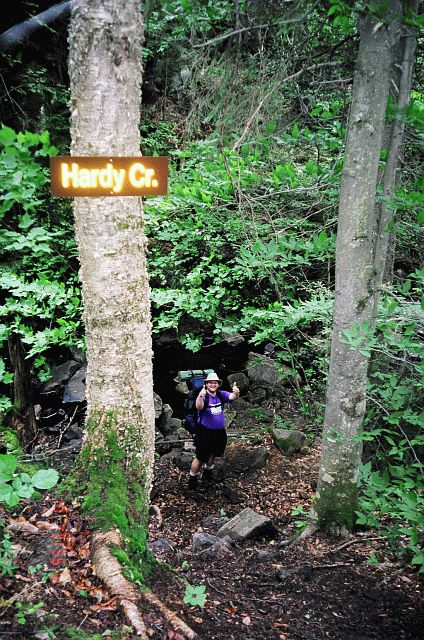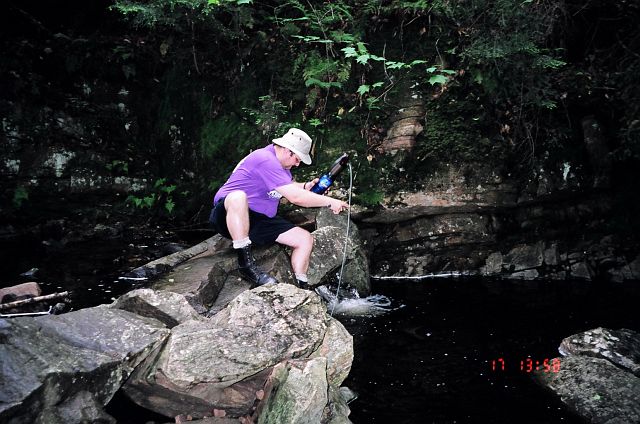 Our first chance to test our new MiniWorks® EX Microfilter.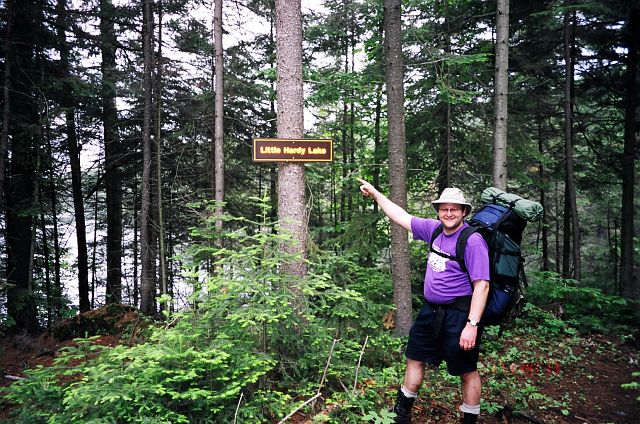 We're good at this!
---
Saturday, June 18, 2005
Sunrise on Maggie Lake. It was some of the only sun we had. It rained a good part of the night and into the morning, including a couple of rainy hours in the early AM while we huddled in the tent listening to the CBC Toronto morning man rant on about what a lovely bright sunny day it was.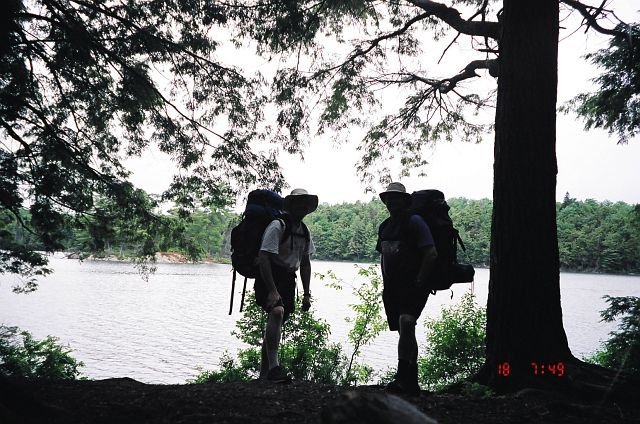 Cool ferns.
Steady....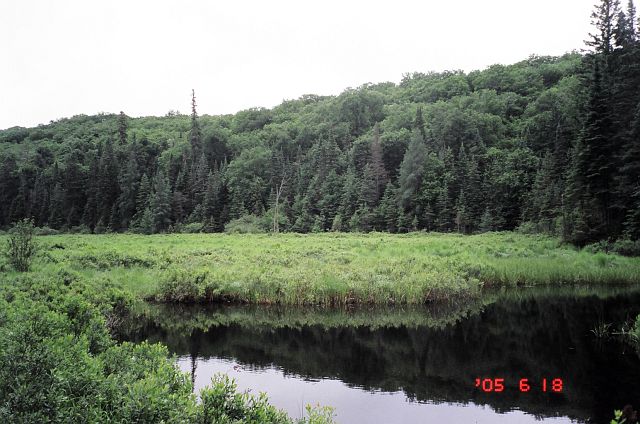 One of the few meadow type openings we saw. It was surprising on these occasions when we came into the open to find it was raining lightly, yet under the canopy we had not felt a drop.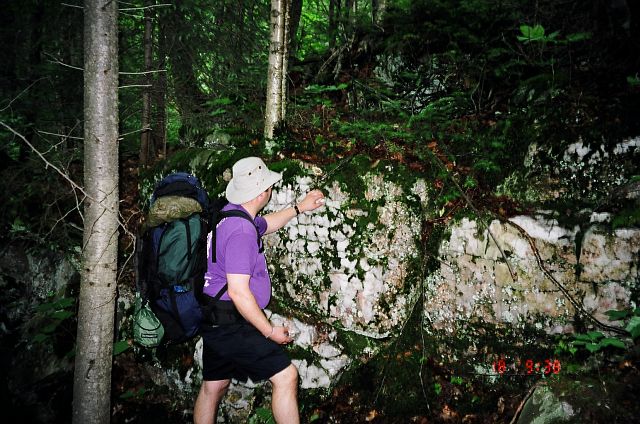 Some cool granite rocks.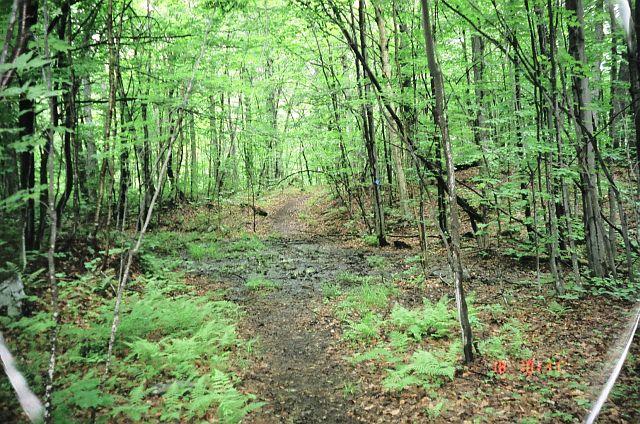 More mud.
11:30 AM lunch on Oak Lake. Thankfully the tough uphills and downhills were coming to an end. Up to this point every descent was rewarded with an ascent, and there was very little level travel. The remainder of the hike was considerably easier and we moved considerably faster as a result.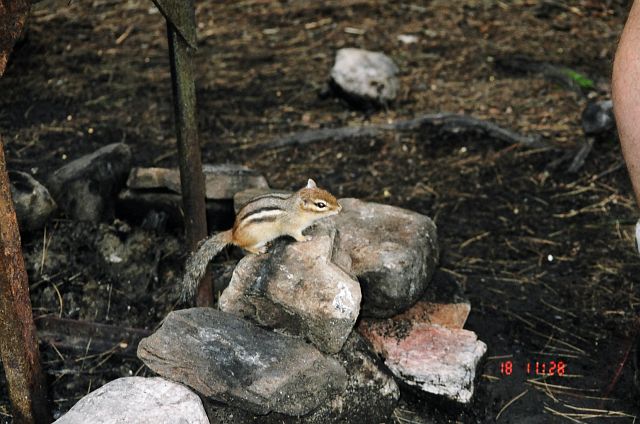 A lunch time visitor.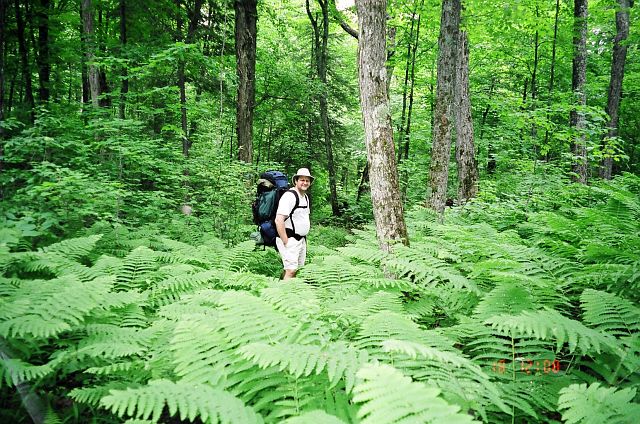 More ferns.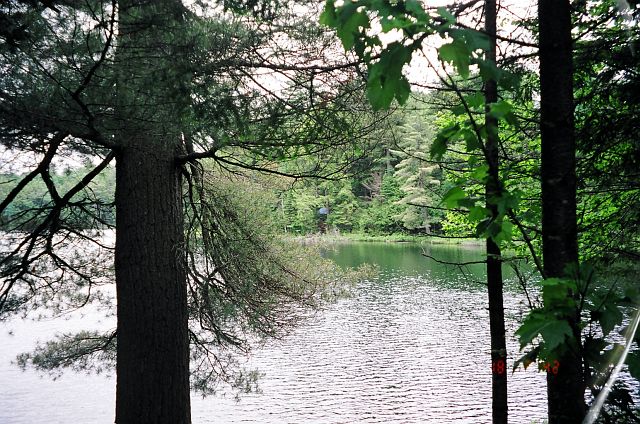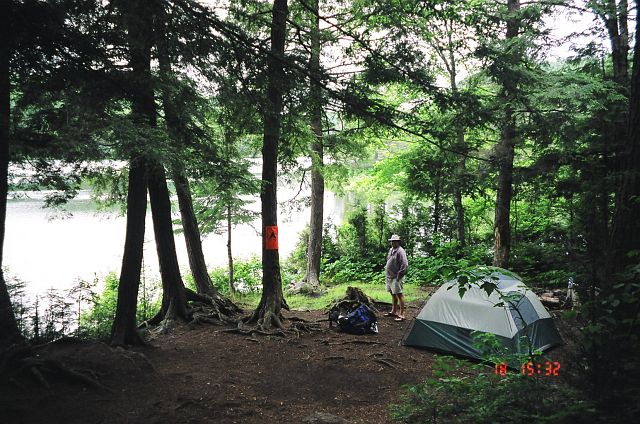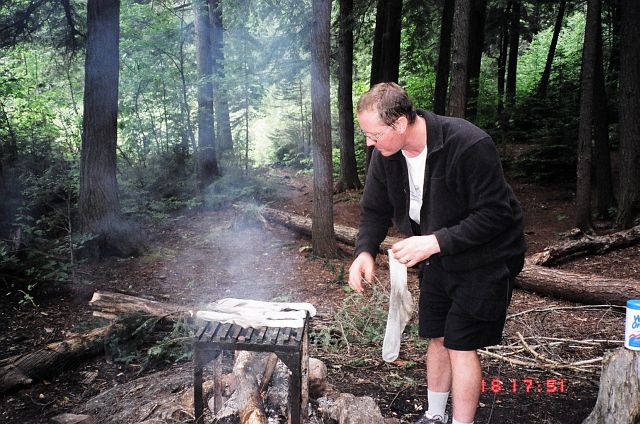 Putting the sock fillets on the fire.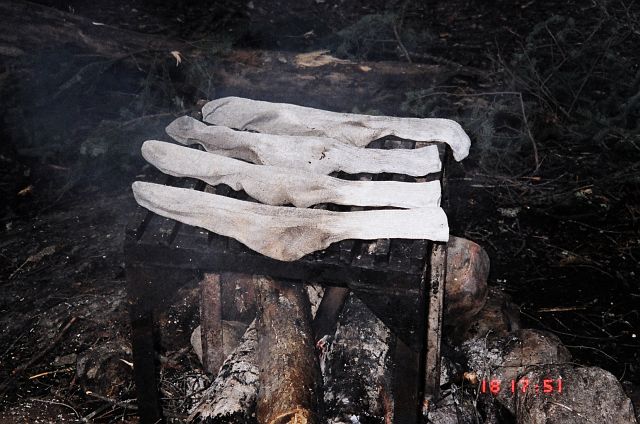 Yummy!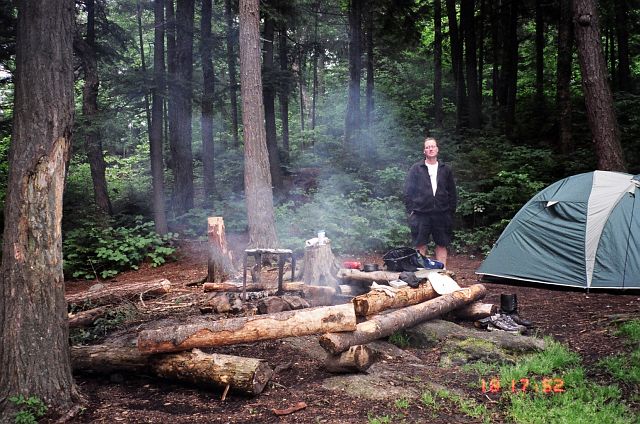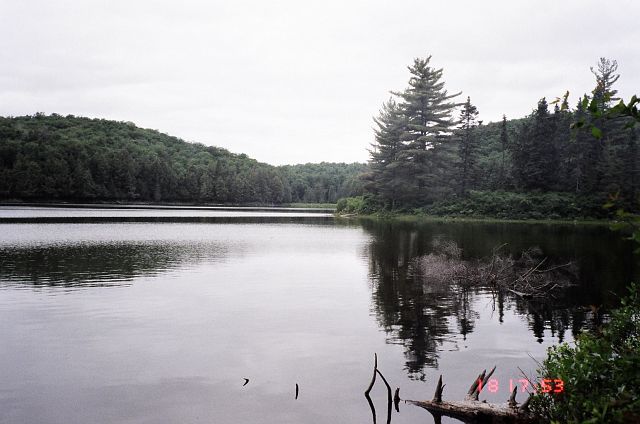 The end of another overcast day.
---
Saturday, June 18, 2005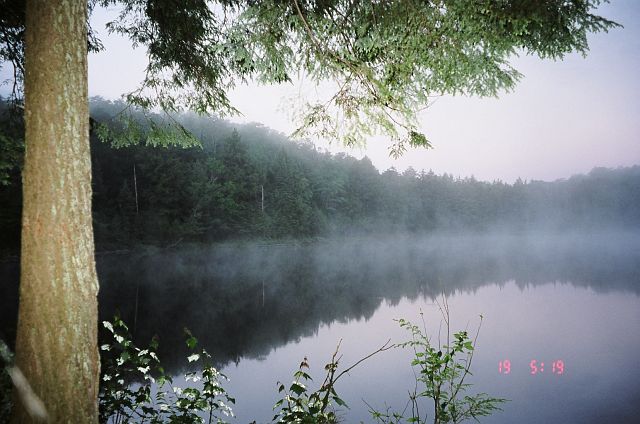 And the beginning of the next overcast day.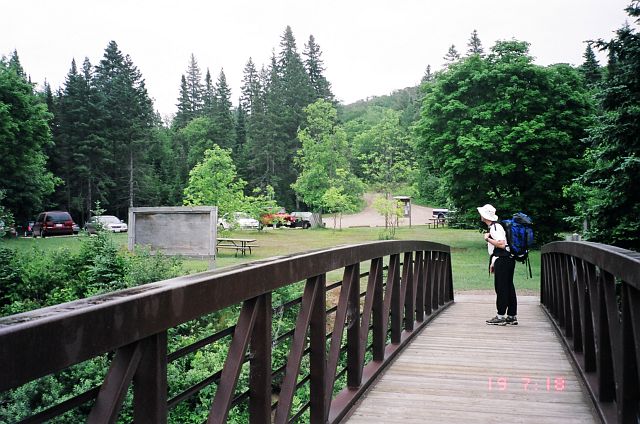 A quick 2 hour hike and we're back to the trail head.
---