Massasauga 2005
(Oastler Lake) - Woods Bay - Wreck Island - Blackstone Harbour
---
Monday, September 19, 2005
This short trek was supposed to be a car camping overnight (Sep.19) at the Oastler Lake Provincial Park campground, and then three nights in the Massasauga Provincial Park (Sep.20 - Woods Bay, Sep. 21 - Wreck Island and Sep. 22 - Blackstone Harbour) and return home Sep. 23.
The short and long term forecast did not look overly promising, although the temperatures looked reasonable...
MONDAY MORNING
MONDAY AFTERNOON
MONDAY EVENING
MONDAY OVERNIGHT
TEMPERATURE
13°C
24°C
18°C
18°C
CONDITION
Mainly sunny
Chance of thunder- showers
Chance of thunder- showers
Chance of thunder- showers
P.O.P.
0%
60%
60%
40%
WIND
E 5 km/h
SE 10 km/h
SE 15 km/h
SW 35 km/h
HUMIDITY
92%
55%
93%
100%
RAIN
-
2-4 mm
close to 15 mm
-

From Monday morning to Tuesday morning we expect : 15-25 mm of rain.
Updated : Monday September 19 2005, 5:00 EDT
TUE
SEP 20
WED
SEP 21
THU
SEP 22
FRI
SEP 23
SAT
SEP 24
SUN
SEP 25
HIGH
18°C
22°C
23°C
19°C
19°C
18°C
LOW
18°C
10°C
10°C
10°C
13°C
10°C
CONDITION
Variable cloudiness
Cloudy periods
Scattered showers
Cloudy periods
Variable cloudiness
Cloudy periods
P.O.P.
20%
20%
40%
10%
10%
10%
WIND
NW 25 km/h
W 15 km/h
SW 10 km/h
NE 20 km/h
SE 5 km/h
W 20 km/h
Updated : Monday September 19 2005, 5:01 EDT

---
4:20 PM arrive at Highway 400 at the Horseshoe Valley exit (we went backroads this time).
5:15 PM arrive at Oastler Lake Provincial Park to find self-serve check-in.
5:45 PM toured campground, picked a site and bought some firewood at a local store.
6:45 PM dinner! We varied from the norm, and had sausages on a bun and beer!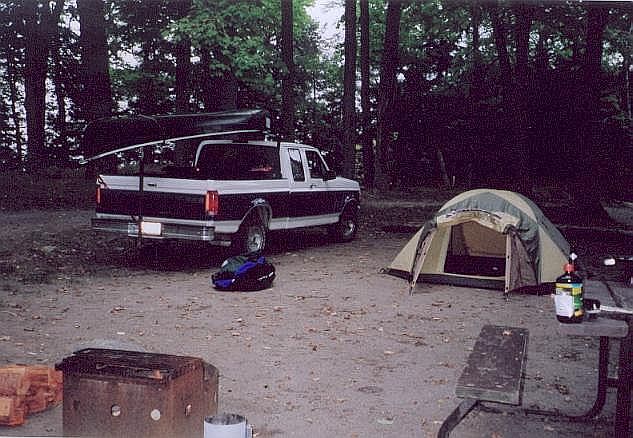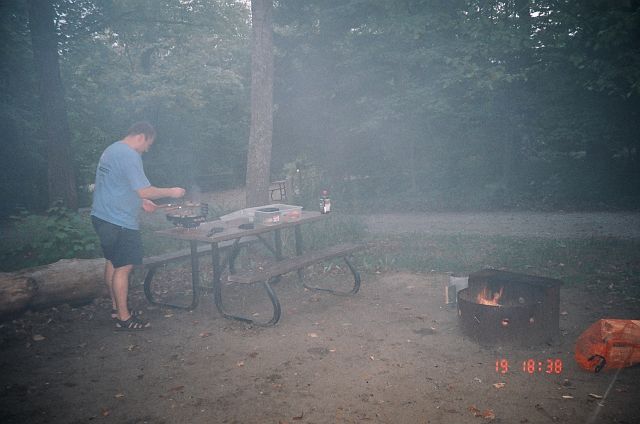 Oastler Lake
9:00 PM retired early as a steady rain began.
A quick Oastler Park review... not recommended. In the busy season, it doesn't look like there would be any privacy at all. Luckily, the park was virtually empty at this point, and it wasn't too bad. Also there are some nearby railroad tracks with a LOT of rail traffic passing by, day and night.
---
Tuesday, September 20, 2005
5:30 AM wake-up... OK, get up, since we were awake most of the night anyway (see the railroad comment above).
6:00 AM breakfast... bacon and eggs.
7:30 AM leave Oastler Lake to run up to Parry Sound for a new road map.
9:00 AM self-register at Pete's Place, and as we round the corner from the sheltered registration area, we are greeted by 30-50 kph winds gusting in off of Blackstone Harbour, and a few other guys with a much larger and stable boat waiting for some calmer weather to launch. Time to re-think the plans? We ventured over to the marina on Woods Bay, and got the advice that "I wouldn't go out in a larger boat today, let alone a canoe" from a local at the marina.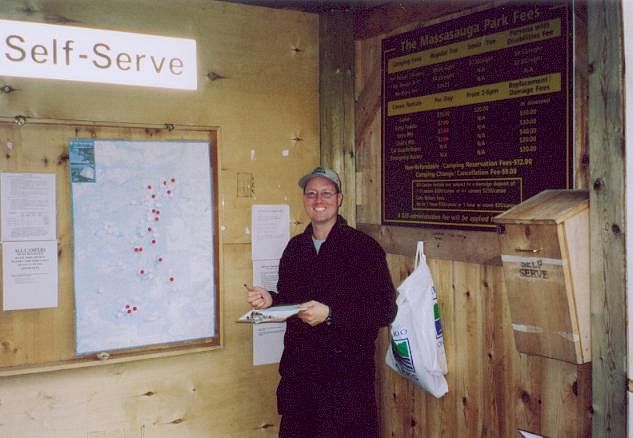 Self-Serve registration
10:30 AM after returning to Pete's Place, we decided to launch without gear.
12:30 PM after checking a nearby portage and a few of the nearby sites we decided not to venture into Woods Bay as planned and change our site for the first night to #512 on Blackstone Harbour.
1:30 PM it took some heads down hard paddling (with a LOT of water coming over the bow and sides of the canoe) to cross the lake with our gear, but we arrived safely at site #512.
3:00 PM after setting up camp, we decide to daytrip to the Calhoun Lodge and the Baker Trail.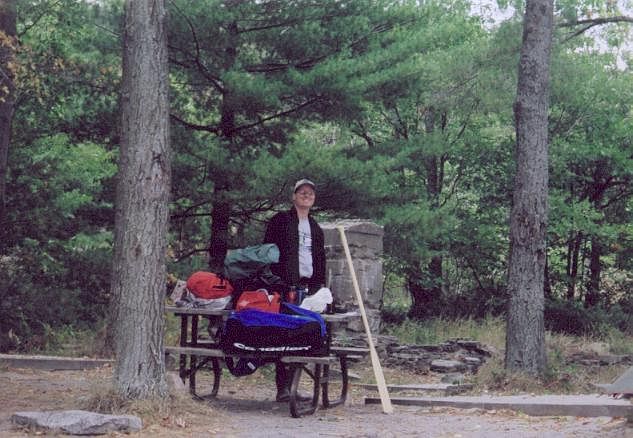 Setting up camp on site 512
3:40 PM arrive at trail head.
6:00 PM finish trail and tour the Calhoun Lodge area.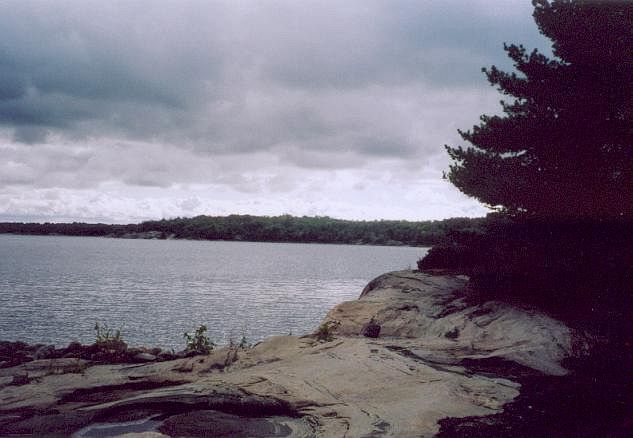 The typical overcast sky we saw for most of the first day.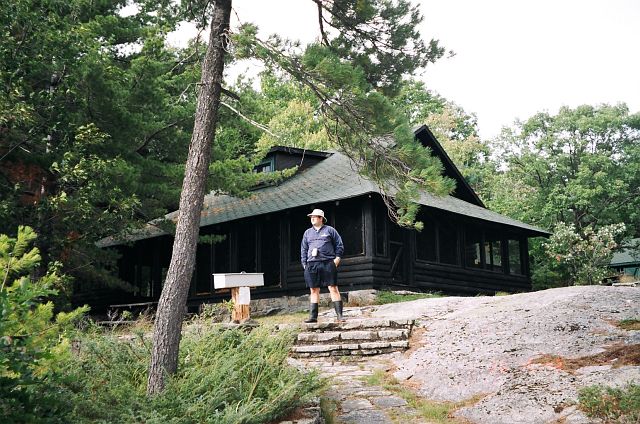 Calhoun Lodge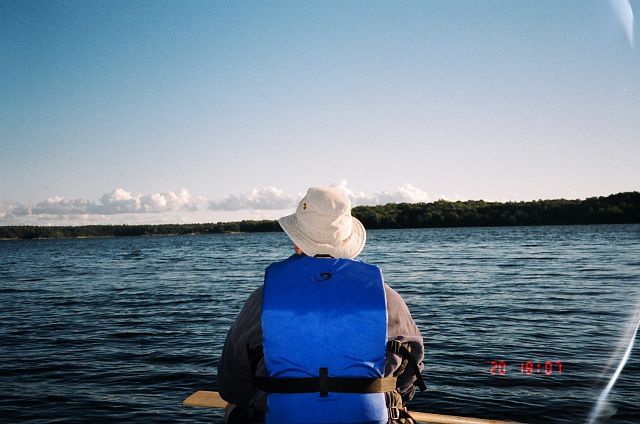 Finally the skies start to clear, but the wind is still moving pretty good.
6:30 PM back at camp.
7:00 PM discover our water pump is missing parts, and start boiling water.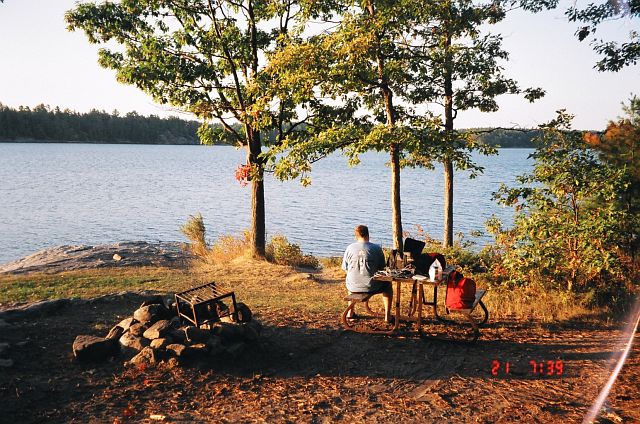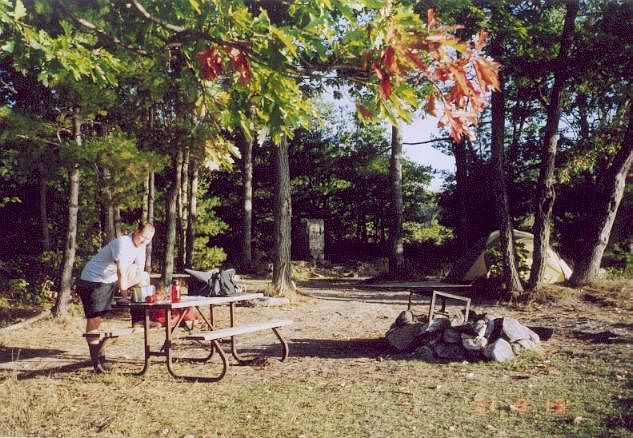 A couple more shots of site 512.
---
Wednesday, September 21, 2005
4:30 AM wake up (totally disoriented) to what sounded like a moose sloshing through the water beside our camp.... which turned out to be a slight increase in windspeed forcing some waves into the shoreline, and we went back to bed.
7:30 AM wake up again and have breakfast. Today the lake is calm and the wind is low.
8:30 AM head for the boat launch to modify our site bookings and get some water. That straight boiled lake water tasted horrible.
9:30 AM return to camp.
10:35 AM with the canoe loaded we launched for the North Channel.
11:00 AM we enter Woods Bay. The water is very calm compared to the prior day.
12:00 PM we stop for lunch at the north end of the east channel around Francis Island.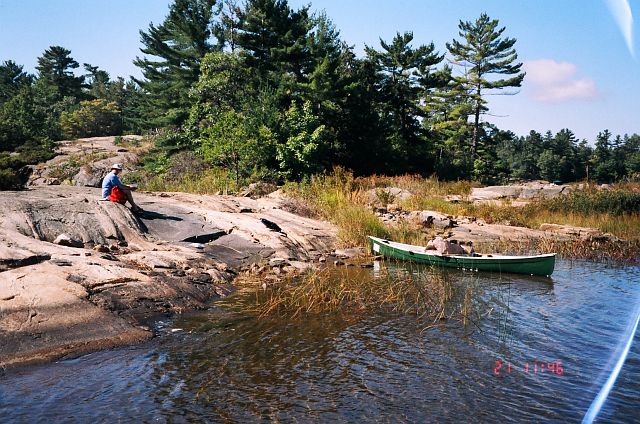 Lunch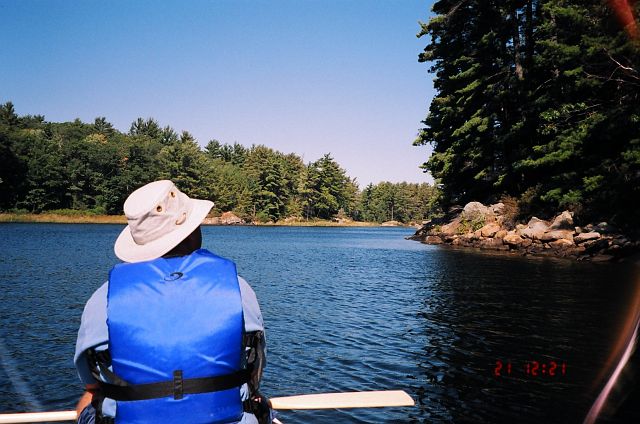 1:00 PM arrive at site 217.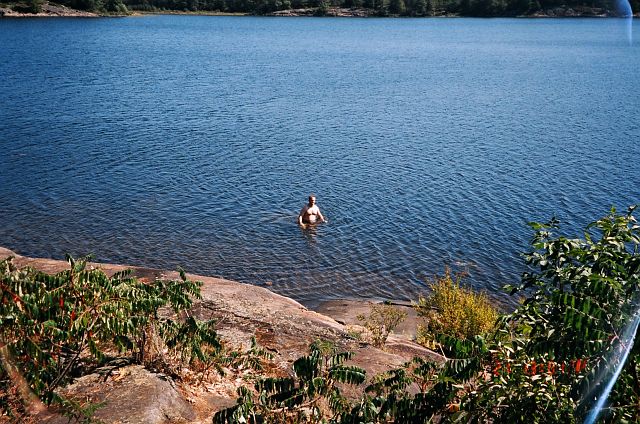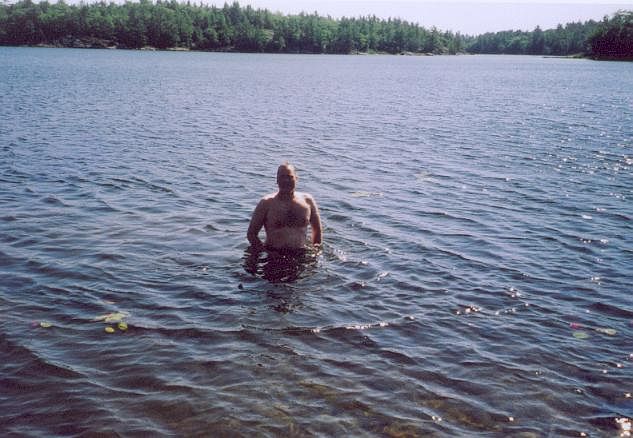 A great swim (the water was still 19C)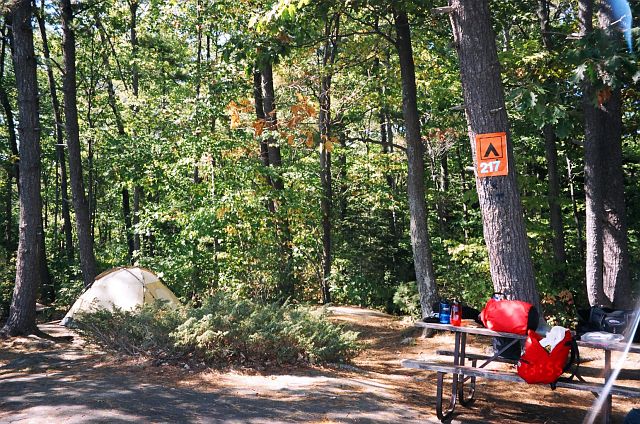 Site 217... another great site.
2:15 PM we left for an afternoon paddle around Miron Island.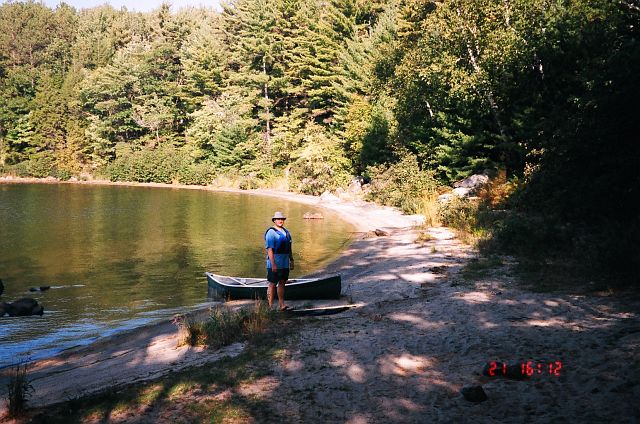 The beach of Site 218... also a great site.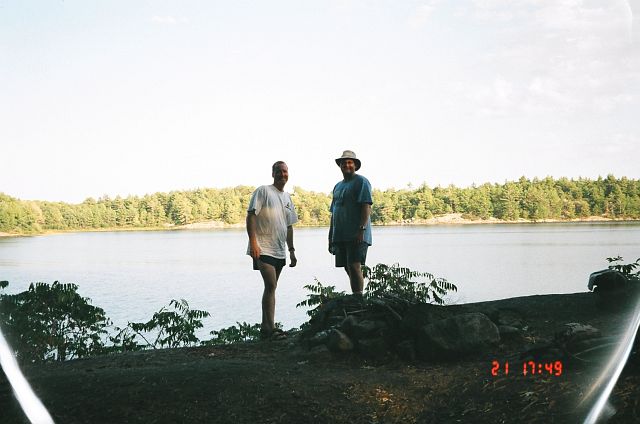 Back at our site.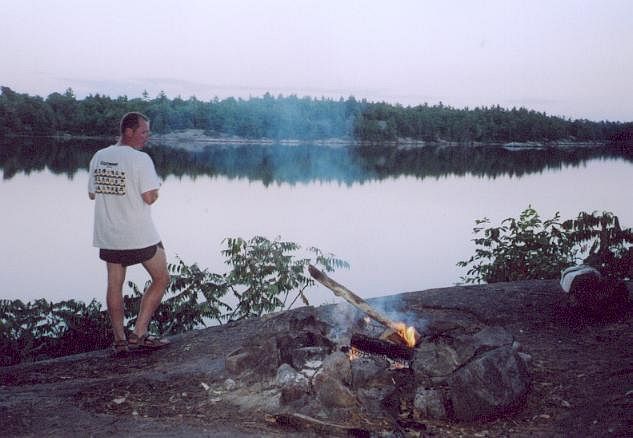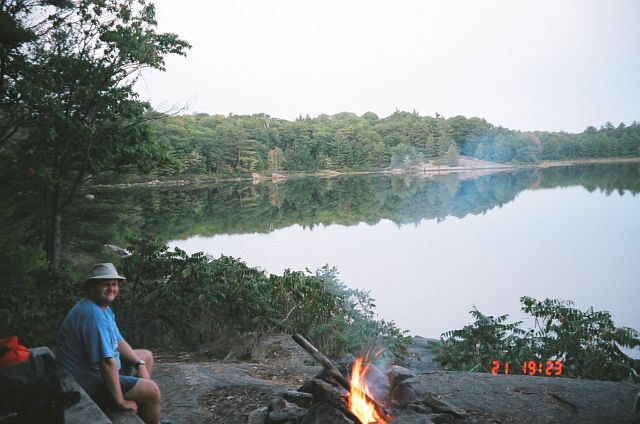 A nice campfire, and the lake turned into a mirror.
---
Thursday, September 22, 2005
5:00 AM wake up and break camp in the dark. This was NOT a good trek for sleeping.
6:30 AM we're on the water.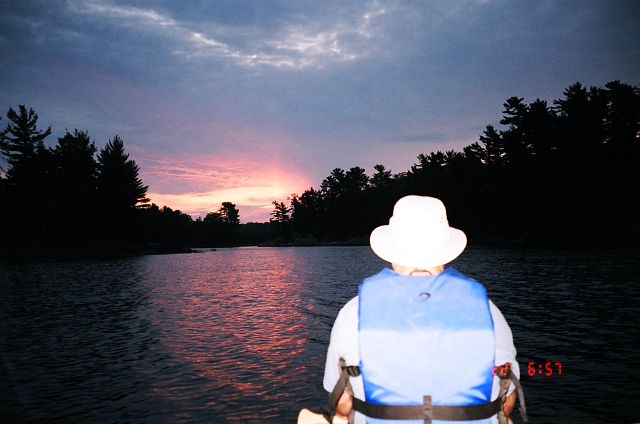 The closest we saw to a sunrise. The sun disappeared again shortly after this.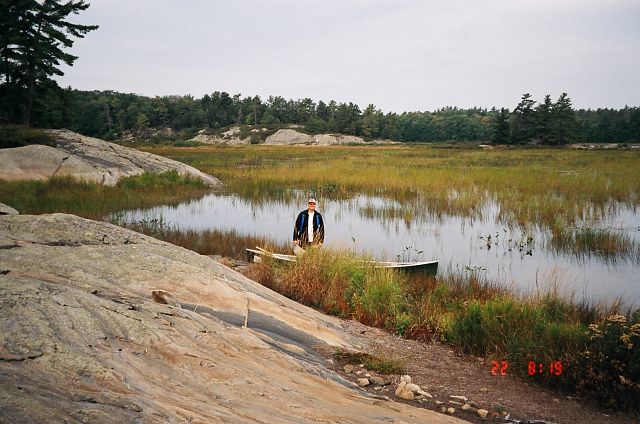 We took the swampy section of Woods Bay to avoid the speed boat traffic.
8:45 AM arrive at the Woods Island Trailhead.
11:00 AM depart Woods Island after hiking the trail. We ventured out the Captain Allen Strait into Georgian Bay, and were convinced that opting out of the Wreck Island portion of this trip was a wise decision. Once out of the channel the water changed from relatively calm to quite wavy with whitecaps, etc. We checked out most of the sites along this channel, and for the most part they weren't very good.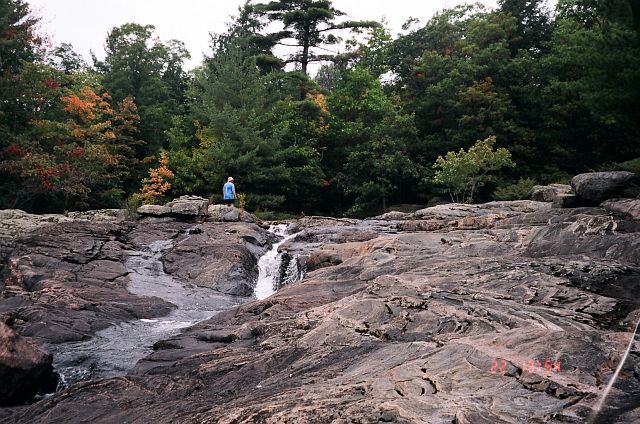 Touring the waterfall on the stream between Little Blackstone Lake and Blackstone Harbour.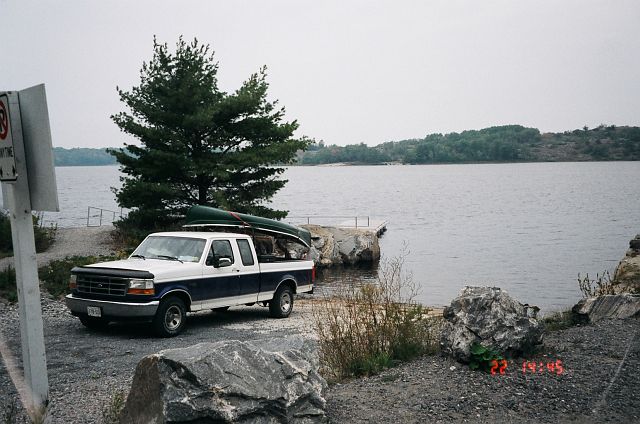 2:50 PM trip abandoned. With the weather forecast calling for rain, three nights of terrible sleep, and the fact that we had an entire afternoon and evening to kill on this small lake where we had already spent our first day, we decided to head for home early.
My Massasauga Commentary...
I doubt we'll be heading back anytime soon for various reasons...
The motor boat traffic in this area is very high (and we were here at the end of the season) certainly outnumbering the canoes/kayaks easily by 20:1
The park seems well suited for and popular with the fishing crowd.
Navigating however, was really easy with the vast number of private cottage properties dotting through the park. Closer examination of the park map reveals that virtually every tiny island within the park is actually private property, with at least one cottage on each island.
It was a rare moment when you could look around and NOT see a cottage or motor boat on this trek.
If you want to "get away from it all", don't go here!
The saviour of this trip was this web page... http://www.geocities.com/bluewater/massasauga.html Had it not been for this web site, and booking all four star (****) sites, this trip could have been really bad. To avoid disappointment, I would recommend nothing less than the four star sites.
Some of the campsites in this park were truly pathetic, Some sites had no place to dock a canoe or pitch a tent. Some fire pits were located on terrible angles, making sitting around the campfire virtually impossible. Others had terrible locations due to channel traffic or beside swampy areas (these sites would be horrible at the peak of mosquito season).
My recommendations... for the serenity of a wilderness adventure, continue further north, or head east to Algonquin.Park.
---